Apartments Paris 01 / Châtelet – Les Halles Paris 01 / Louvre – Palais Royal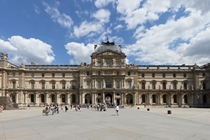 This area is one of the oldest in Paris, with the Halles dating back from the Middle Ages. It is also one of the most visited districts in Paris and is ideal if you are looking for an apartment to rent in the center of Paris.
Many remarkable monuments are located within walking distance, such as the Louvre and the Palais Royal. The "rue du Faubourg-Saint-Honoré" is home to the most famous designers and you can find most high-end jewellery stores on the nearby "place Vendôme". Renting an apartment in the Louvre area will allow you to walk around the beautiful Tuileries garden.
Apartments, which meet your search criteria, will soon be available. We invite you to leave your
contact details
so that we can call you back. You can also register for
the email alert
to receive our new offers.