Are you the owner of an apartment that you want to rent out? Have you asked yourself how to equip your apartment in order to rent it out as furnished for all or part of the year ?
Here are some of Lodgis' tips on how to equip your property before listing it for rent...
1/ Required elements
After having some what defined the conditions for renting a furnished property in 2014 ("decent accommodation equipped with sufficient quantity and quality of furniture to enable the tenant to sleep, eat and live there decently with regard to the requirements of the everyday life" (article 25-4)), the ALUR law went further in August 2015 thanks to a decree establishing the list of compulsory furniture and equipment for renting out a furnished property as a main residence.
Since then, all accommodations must have the following 11 pieces of furniture and equipment to be offered as a furnished rental:
Bed including duvet or blanket
A blackout device for the windows of rooms intended to be used as bedrooms
One or more hot plates or stove tops
An oven or microwave
A refrigerator and freezer or, if not possible, a refrigerator with a freezer (compartment offering a temperature below or equal to -6 ° C)
The dishes necessary to be able to eat meals in the property
Kitchen utensils
A table and seats
Storage shelves
Lighting
Household maintenance equipment (adapted to the characteristics of the accommodation)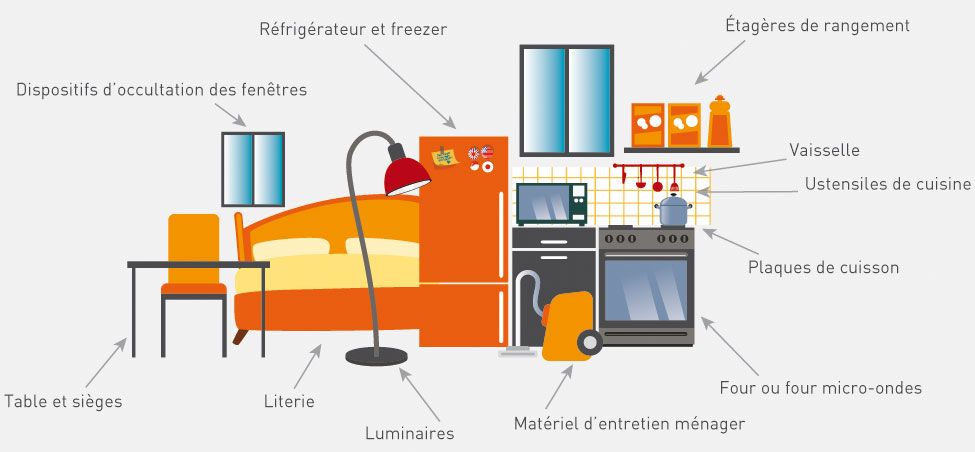 Good to know: If the judge considers that the provided furniture in the accommodation is insufficient for the tenant to move in immediately and comfortably, they can requalify the furnished rental as an unfurnished rental.
2/ Complimentary equipment
Even if respecting this list of the 11 obligatory furniture and appliances is enoughto list a furnished rental accommodation, at Lodgis, we encourage owners to improve the standard of their property by equipping it with additional furniture and appliances. Indeed, this will allow them to rent it more easily and at the best price.
Tenants particularly appreciate: an ironing board and iron, small appliances (suchas a toaster, coffee maker, kettle, hair dryer, etc.), cable channels, home cinema,dryer, air conditioning, cleaning service, etc.

Good to know: if your property is located in a competitive area where rent controlis in place (such as in Paris), complete and quality equipment may justify the addition of a rent supplement.
To learn more, we suggest reading our article "How to equip your property to rent it out as furnished?"
List your property
Do you want to list your property on our website? Post your listing right now, it is FREE and NON-EXCLUSIVE!
List your property
Contact us
Do you want to learn more about our rental offers and management starting at 3.9% including taxes? Our expert agents are at your disposal!
Contact us
+33 1 70 39 11 07