Do you need to find an apartment for your employee in Paris for a training, a professional event, a business deal or an expatriation?
Are you looking for a comfortable place for your employee to stay that's good value for your company?
Go for a furnished apartment!
Unlike hotels and apartment hotels, a furnished apartment gives your employees the comfort and privacy to create a comfortable environment for personal and professional satisfaction.
Advantages of renting a furnished apartment
What are the benefits of renting furnished apartments for your employees on work placements in Paris?
Give them a real 'Home away from home' with space and comfort and peace of mind; you will also be helping to improve your corporate social responsibility.

Save money: renting a furnished apartment offers lower costs than the other types of accommodation (hotels, apartment hotels...), and it typically offers very competitive total costs.

Efficiency, thanks to a fast and simple booking process

Peace of mind and comfort: we work to meet your needs and requirements and assist you throughout the rental period.
Find your accommodation using Lodgis
Do you want to rent a furnished apartment in Paris for one or more of your employees? Trust Lodgis!
Whatever your needs and specifications, we will assist you throughout the process so that you can find the perfect place that meets your expectations: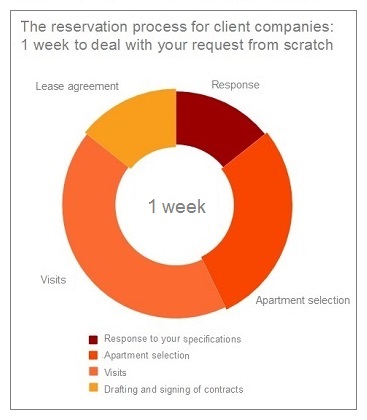 Personalized client file (tailored to your individual needs)
Dealing with your request: we take care of your requests to help you find the perfect property
Certified offers: in the interests of your employees, we regularly inspect all of the apartments and their equipment
Respecting company procedures (contracts and accounts...)
Electronic contracts promising speed and security (a lease can be signed in a few hours)
A dedicated advisor whom you can reach by phone and e-mail
Rent tracking
Financial management
We are trusted by more than 2,000 companies worldwide!
► Read their testimonials
Whether you are a start-up, an SME or a large organization, we can help you find the right accommodation in Paris.
► Find your accommodation in Paris