Lodgis, a Parisian agency specialising in furnished lets has recently been awarded a 2015 FNAIM VIP trophy. The aim of these awards is to raise the profile of property professionals and highlight outstanding actions and initiatives. The trophies were awarded for the first time this year, to four winners. Lodgis was chosen for its dedication and professionalism, in the lettings/management section.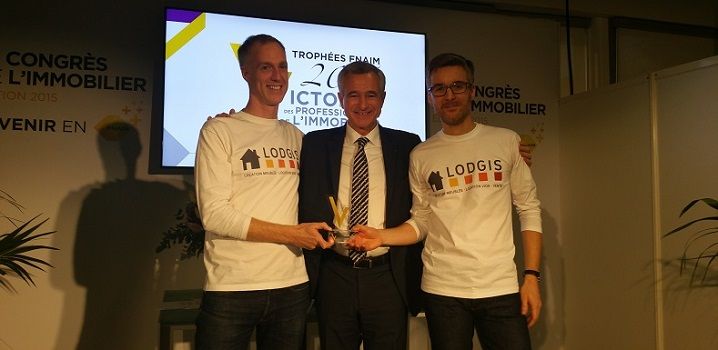 Fabrice Petit (Chairman, Lodgis), Jean-François Buet (Chairman, FNAIM) and Matthias Velter (Associate Director, Lodgis)
Customer satisfaction, the cornerstone of the Lodgis strategy
Lodgis was created by Fabrice Petit in 1999. Today, it employs over 60 people. Since its inception, it has used a focus on customer satisfaction, innovation and CSR to stand out in an increasingly competitive marketplace. It was thanks to these three elements that the 2015 FNAIM VIP trophies panel selected Lodgis as the winner in the lettings/management category.
Lodgis has always prided itself on its ability to adapt to the changing needs of its increasingly mobile and international clientele. Lodgis' multi-lingual team of expert advisors provide customers with tailored advice and optimal support.
Moreover, in 2011 Lodgis pioneered electronic signatures for contracts, and in doing so revolutionised practices in the lettings sector. With this service, a contract can be signed remotely, online, in just a few minutes, cutting down on the time required to complete paperwork. To date, Lodgis has collected 60,000 electronic signatures. It is also the only agency to provide clients with an interactive plan for every property on its website, and offer them a bitcoin payment option for their rent and agency fees!
The agency has also taken the courageous step of capping agency fees for furnished lets in second homes. There is currently no legal requirement for this; the decision was motivated purely by a commitment to customer satisfaction.
Working together to protect the environment
Lodgis has launched various initiatives within the company to reduce the environmental footprint of its operations and boost staff well-being.
Three bee hives have been installed on the roof of Lodgis' premises to protect Paris's bees and provide them with accommodation in their natural habitat. The agency is working on going paperless and also encourages all staff (including directors) to choose greener transport solutions wherever possible, to avoid contributing to urban pollution.
To help staff reach their full potential, the agency provides comfortably furnished relaxations rooms, Pilates classes and a coach-trainer.
"The market is increasingly competitive. We decided to make outstanding customer service our unique selling point. To do this, we have launched a number of projects and put in place numerous actions, endeavouring to be as innovative as possible. We are very proud to receive this trophy in recognition of our efforts. It is a great motivational tool for our teams. It is also concrete proof, for our clients and partners, of our commitment to quality", said Lodgis' Chairman Fabrice Petit.
Read more: