Every year France welcomes even more students from the European Union. To celebrate the 30th anniversary of the ERASMUS program, Lodgis, Parisian real estate agency specialized in furnished rentals, is sharing its helpful tips on the easiest way to rent a property.
Over 30,000 ERASMUS students in France
Between 2010 and 2014, the number of ERASMUS students staying in France increased by 28%. Today there are almost 30,000 European students spending three to nine months studying in the French higher education system(1). France is the third most popular country for these students, behind Spain and Germany, and Paris is the most popular city(2). When students choose to come France, inevitably one of their biggest concerns is accommodation.
Students studying abroad: the importance of a complete file
Living in a new city can certainly feel like a minefield for the first few months, but it is completely possible to find accommodation before arriving, mainly thanks to agencies specialized in furnished rentals. Virtual tours, help with the guarantor paperwork and electronic signing of the lease are some of the many features that help clients choose a home before arriving in Paris.
Students looking for an apartment when they arrive in France will need to provide all the necessary documents: proof of identity and a copy of it, certificate of school attendance, proof of address and documents stating their financial means. However, the landlord cannot request any documents concerning the private life of the applicant, such as medical records or a bank statement, or demand any payment before the lease has been signed.
A foreign guarantor or a student rental deposit
Financial guarantees are necessary for all rentals. Although foreign student often don't have a parent or relative with an income in France who can act as a guarantor, landlords can accept a guarantor living and earning an income abroad. This means that the relative will take over the responsibility for unpaid rent if necessary. However, the risk of this happening is low as the foreign student has often thought ahead and saved up the money necessary to carry out their studies in France.
If the landlord doesn't want to accept a guarantor with an oversees income, there is another solution: the CLE (Caution Locative Étudiante, student rental deposit). This scheme managed by the CROUS allows the French government to act as guarantors for students that don't have a rental deposit, like a French guarantor. The applicant just needs to have proof that they are living in France as part of their studies and be under the age of 28 when they sign the lease (although there are exceptions for PhD or post-PhD students).
APL, additional housing aid
Furthermore, APL (Aide Personnalisée au Logement, personalized housing aid) is available to European students. A request can be made on the Caisse d'Allocation Familiales (the French government's family allowances fund) website during the first three months that the student has been living at the address in question.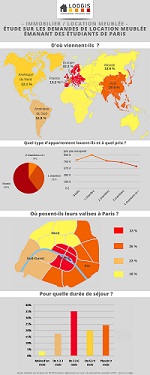 Access to housing is a priority for ERASMUS students during their stay and, with a lack of available student housing(3), furnished rentals are an increasingly popular solution. This means that students don't have to buy expensive, bulky furniture or household appliances when they are only staying in France temporarily.
Discover theLODGIS study on the profile of students studying abroad in Paris (in French).
(1): http://ressources.campusfrance.org/publi_institu/etude_prospect/chiffres_cles/fr/chiffres_cles.pdf
(2) : Paris is on the second place in 2017, among the QS Best Student Cities' study
(3) : https://www.challenges.fr/immobilier/pourquoi-la-penurie-des-logements-etudiants-attire-les-investisseurs-prives_425641
Read more: