Lodgis, the Parisian real estate agency specialized in furnished rentals, analyzed 1 398 booking made during the second quarter of 2016 in order to know more about traveling professionals in the capital. Here is what came out of this inquiry.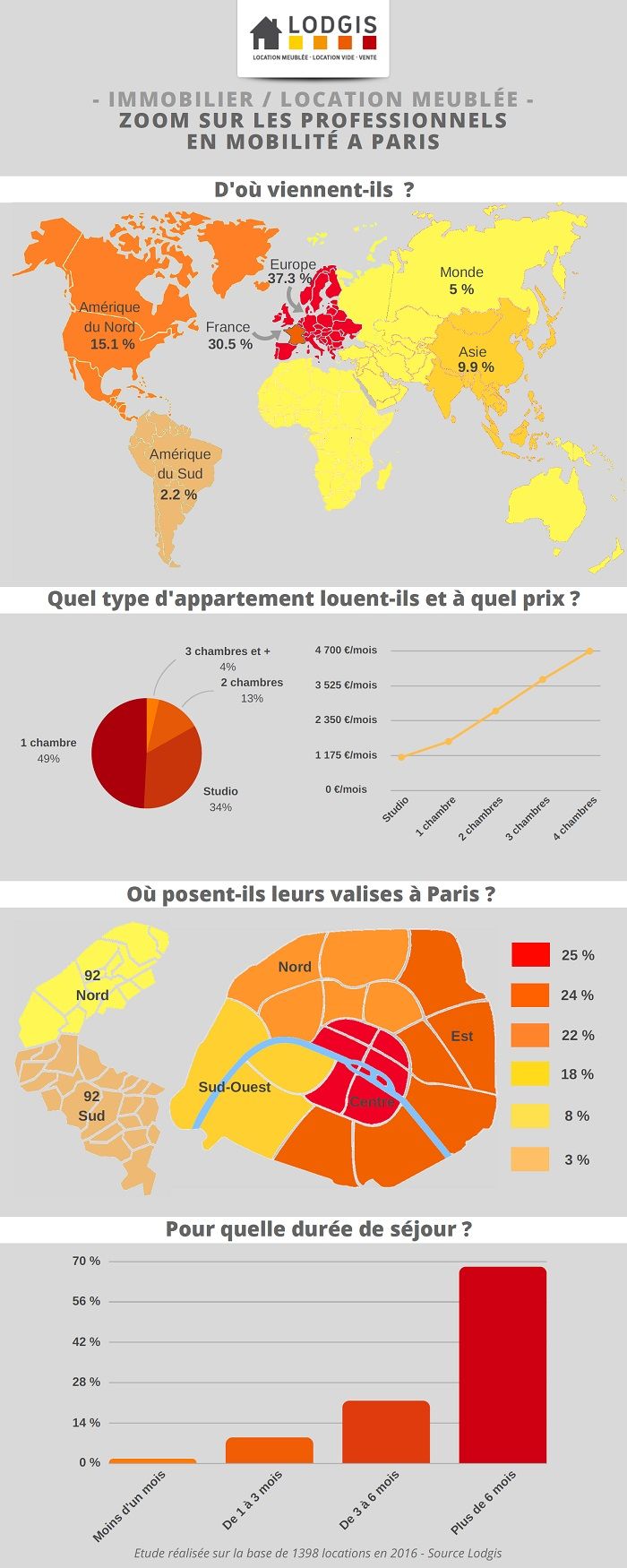 Europe and France, breeding grounds for business travelers
A great part of professionals traveling to Paris come from the European Union (37.3%). The workers' free movement and the numerous economic exchanges between France and other members of the community are the main reasons for this phenomenon. North America is also an economical weighty partner since the capital keeps records of more than 15% of North-American citizens in furnished rentals. France's partners are also numerous to settle down in Paris for work during few weeks or months (30,5% tenants of furnished rentals in Paris).
Staying in a furnished rental is synonymous with comfort
Around half (49%) of workers choose a one-roomed apartment. This type of surface suits more the expectation of professionals aspiring to a certain comfort. The studio, a little less expensive, remains attractive, with 34% of bookings in Paris. The two-bedroom apartments are mostly intended for expatriated workers who come to Paris with their family.
Furnished rentals offer comfort and quality of service which are particularly appreciated: household appliances, internet connection, high-tech equipment... This specificities, thus, justify a higher rent than for unfurnished rentals, representing between €1000 and €4 700 on average depending on the type of property rented.
Surprise, the North and East of the capital attract more professionals
Neighborhoods of Paris particularly valued by professionals are located in the central arrondissements from 1st to 6th which attract a quarter of the tenants. More surprisingly, 24% of them choose the East of Paris and 22% turn to the North of the capital. The ritzy areas located in the 15th, 16th and 7th arrondissements get 18% of furnished rentals tenants traveling for business. This way, the numbers go against the misconceptions, indicating that the Hauts-de-Seine (particularly the business quarter of La Défense) and the center of the capital host the major part of business travelers. On the opposite, it seems like they favor the living environment more than the workplace proximity.
Finally, around 70% of furnished rentals in Paris are booked for more than 6 months: this type of temporary housing is particularly suited and necessary for business travelers who wouldn't be willing to stay at the hotel for such durations.
The companies' requests to find accommodation for their partners in Paris don't diminish. For a relocation, training or even a few-month mission, furnished rentals represent a real alternative to the solutions of traditional housing. Often cheaper than a hotel room, it allows companies to accommodate, at a lower cost, their teams in the numerous business centers of the capital.
Read more: