An analysis of the furnished rental market, by Lodgis
« As the Parisian furnished rental market remained stable in 2018, it should experience a real shake-up in 2019. Indeed, following the tightening of rules surrounding holiday rentals, and an increase in controls, owners are increasingly stopping seasonal renting in order to benefit from the traditional furnished renting. The Bail Mobilité, introduced under the ELAN law, allows us to better adapt to the needs of student and professionals travelling for work, for which there is an increasing demand. In 2019, the furnished rental market will continue to grow, particularly in large cities. » says Alexis Alban, Operations Manager at LODGIS.
Change in price per m2/month in Paris's furnished rental market

In Paris, rental prices for furnished properties rose slightly in 2018 (+1.4%). Although this increase is greater than in previous years, it remains in line with inflation rates in 2018 (+1.8%), and all the more so since previous rental frameworks were abolished in Spring 2018.
Reasons for renting in Paris in 2018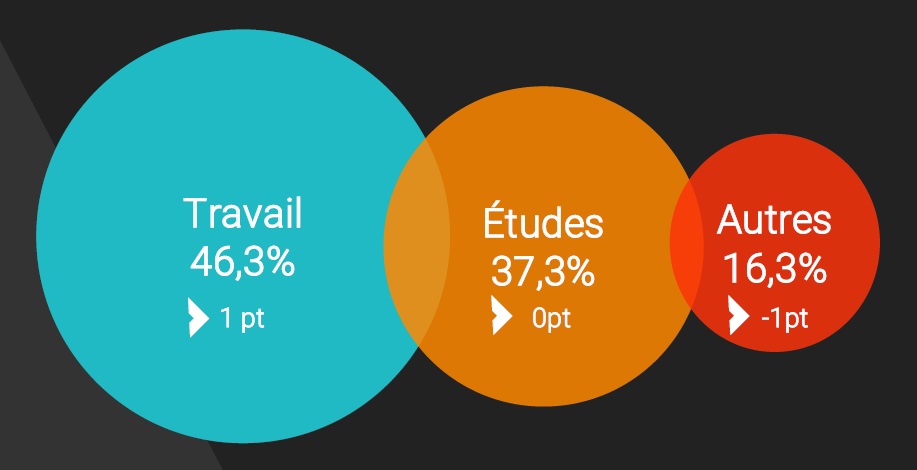 46.3% of tenants were travelling for work
Paris is a popular destination for business travellers. The demand from companies to find accommodation for their employees travelling for work makes this the top reason for stays in Paris. According to the Global Cities Investment Monitor 2018 barometer, international investment in Paris has increased by 80% in one year, and the capital is in line to become a leading city in post-Brexit Europe in terms of investment.* This is good news for both the appeal of the city and the mobility of professionals.
* Global Cities investment Monitor 2018
37.3% of tenants are students
In 2018, the number of student tenants has stayed the same. Over the last 15 years, the number of students in the Ile-de-France region has risen by around 17%, meaning that today, there are around 660,000 students registered in the area*. Of them, nearly 200,000 live in the capital**. Paris is the 2nd biggest student city in the world according to Campus France, and the Ile-de-France region welcomes 37% of France's entire student population***.
* From the Ministry of Higher Education and Research
** Les étudiants dans la Métropole du Grand Paris', APUR, note n.109, August 2016
*** Key figures from Campus France, August 2018
16.3% of the reasons for stays are of a personal nature
... such as works being carried in the main residence, accompanying a hospitalised relative or temporary accommodation following a separation. This proportion remains relatively stable from one year to the next.
Origin of tenants renting furnished apartments in Paris in 2018
As a whole, the geographical origin of tenants changed very little in 2018.
The European Union and France make up the largest percentage of tenants, with 33% and 31% respectively. There is an increase of almost 2% in the number of Europeans, who are therefore the main tenants of furnished rentals in Paris.
North America (11.6%) and Asia (9.8%) rank third and fourth, respectively. However, the percentage of Asian tenants is slightly down this year (-1.4%), while that of US citizens has increased slightly (+0.7%), as a consequence of favourable economic conditions.
There has been a decline of almost 2% in tenants from South America.
Top 5 European countries in 2018 (excluding France)
The main nationalities of European tenants are Italian (32.1%), English (18.8%) and Spanish (10.2%). Tenants from the UK increased by 3% this year. Brexit is starting to show its effects on the Parisian furnished rental market, and as Lodgis has seen a 15% rise in web traffic from the UK in early 2019.
Lodgis has also been selected as a "Housing" partner by Paris Region Enterprises, the Ile-de-France Regional Council agency in charge of the area's international attractiveness and coordinator of the "Choose the Paris Region" programme.
Types of furnished properties rented in Paris in 2018
Unsurprisingly, smaller properties remain the most popular when it comes to rented accommodation. Perfectly suited for students and professionals travelling for work, studios and one bed apartments account for 88% of leased properties.
Larger living spaces are sought after by expatriate families and for shared student houses.
Length of stay in 2018
Furnished rentals last longer and longer: nearly 20% of tenants move to Paris for a minimum of 1 year, and this figure has increased by 5 points in one year.
In addition, 71% of rentals are made for periods of between 1 and 10 months. The implementation of the mobility lease at the end of 2018 therefore makes perfect sense.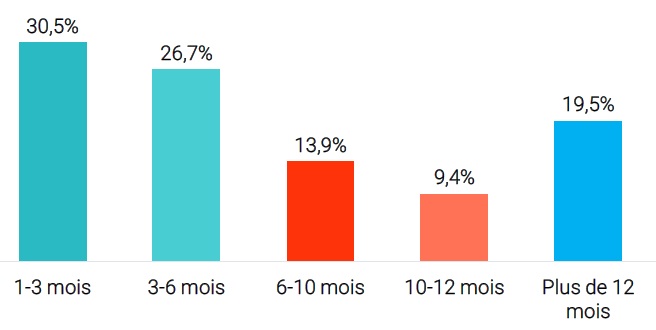 Read more: