Lodgis, Parisian real estate agency specialized in furnished rentals, analyzed 1 078 bookings made during the second semester of 2016 in order to know more about students traveling to the capital. Here are the main conclusions of this survey.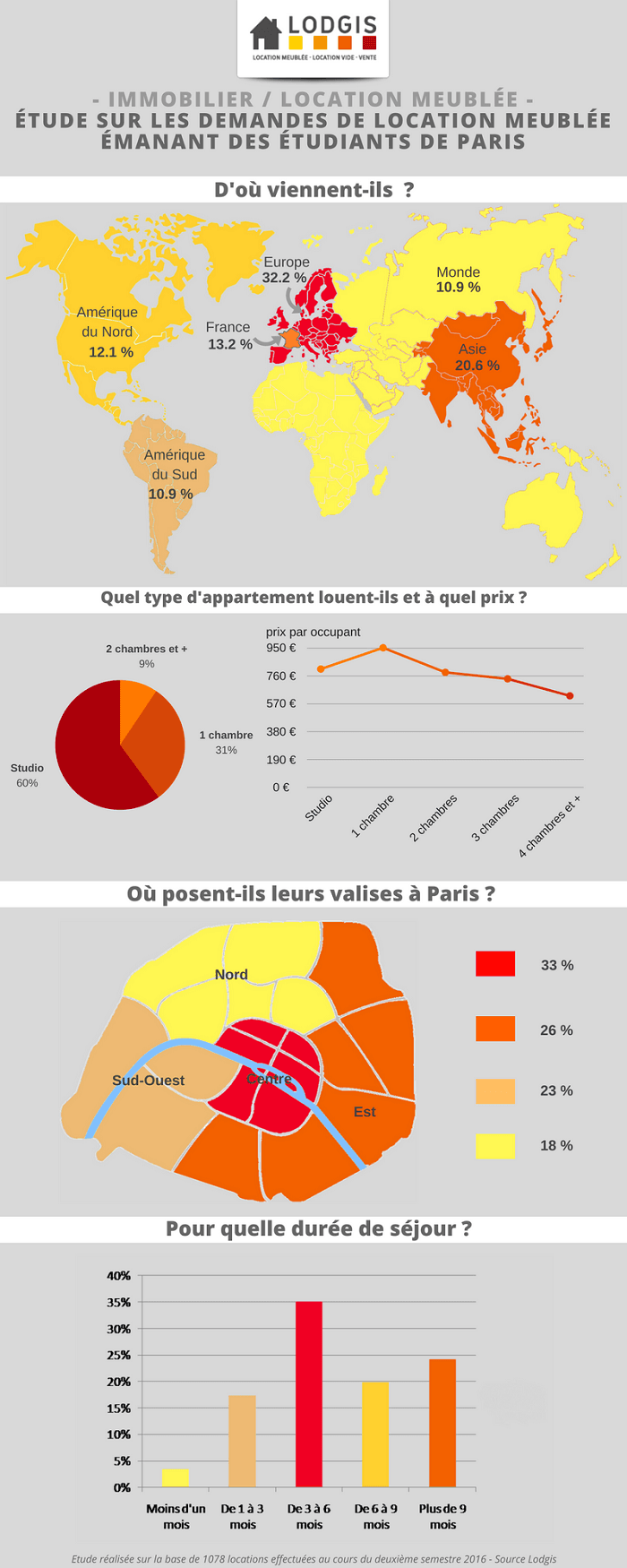 Europe and Asia in the lead
Students traveling to Paris mainly come from the European Union (32.2%) but also from Asia (20.6%). The number of students pursuing their studies away from home doesn't stop increasing, majoritarily when it comes to higher education. In Asia, their rate of expatriation has actually moved from 3,5 to 7,6%. many choose Paris for its universities and schools reputation, its welcoming capacity and its financial accessibility.
Small surfaces areas have the place of honor
More than half of the students (60%) go for a studio. These small accommodations meet their expectations because it's cheaper and it allows them to keep intimacy and comfort. The properties offering a bedroom are also requested in particular by students in a relationship. The biggest apartments, less numerous, are booked for sharing and represent 9% of Paris furnished rentals.
For students, furnished rentals offer a certain comfort and an undeniable quality of service thanks to its furniture, domestic appliances and high-tech materials. These specificities that allow students coming from abroad not to trouble themselves with furniture and to optimize their settling time, justify the fact that the rent is higher compared to unfurnished rentals. The average rent for a studio then amounts to approximately € 770.
Central Paris, favored by students
The districts of Paris that are mainly preferred by students are the central arrondissements from the 1st to the 6th seducing near a third of the tenants (33%). These neighborhoods, historically occupied by students, gather the most ancient universities making the reputation of the Capital.
Eastern Paris is the second most requested area (26%), in particular the 12th and 20th arrondissements that are the cheapest of Paris. The success of chic neighborhoods like the 15th and the 16th arrondissement (23%) is more surprising. It can be explained by the parents' will to settle their children in a "safe and quiet" area.
They set up home and stay for long!
Near 35% of Paris furnished rentals are booked for a duration going between 3 and 6 months: this type of temporary accommodation is particularly suited and necessary to students coming to Paris for a quarter or a semester, especially in the context of a European exchange program such as Erasmus. Almost 25% of the students rent a property for more than 9 months corresponding to the university year.
The students' demand for accommodation in Paris is regularly on the rise, the Capital being renown as one of the best city for students in the world. Furnished rentals thus seem to be the ideal solution: it avoids them to buy furnitures, expensive and cumbersome domestic appliances, especially for temporary stays.
1: Source Unesco, survey made between 2003 and 2013
2: According to the ranking of QS Best Student Cities, Paris was second in 2017
Read more: