Increasing number of European and American visitors

In Paris, the furnished rentals price are remaining steady throughout the second quarter of the year: €37,20 per square meter in average, that is to say + 0,7% compared to the same period in 2016. While the Observatoire Clameur announces a rent drop of -1,1% in the entire Parisian rental market, furnished rentals play their cards right. Lodgis observes a clearer hike on the side of the districts located away from the center of the Capital, where the price per sqm is increasing by 1,5%. Only the center of Paris, that covers the highest rents, doesn't experience any variation. So, the general tendency of the Parisian furnished rentals market remains steady (+0,7%), following the price natural inflation (+0,8%).
The return of American tenants
Near 33% of furnished rental tenants are coming from France, which represents 2 points less compared to the previous year second quarter. The Capital still attracts French tenants living in the region or in a foreign country for a temporary stay in a furnished property. Representing 27% of the last three months booking, Europeans stay 2nd of this ranking with a rise of their visits by 3 points.
And surprise, American tenants make their return with a rise of 3 points. This evolution is to be compared with the coming back of American tourists of which the visits increased in 2017 by +24,7% reaching its 2014 level.
On the opposite, Asian tenants (-1 point) see their share decreasing slowly in the ranking.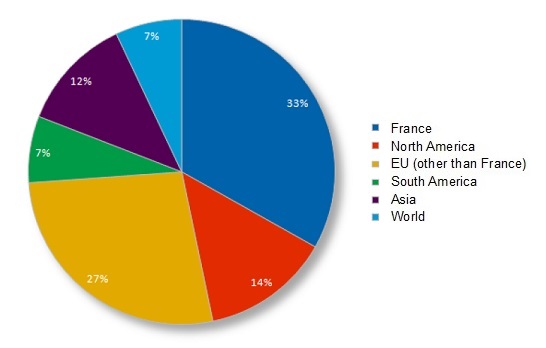 Bookings for personal grounds are more numerous
The statistical figures concerning the tenants motives for Parisian furnished rentals are quite similar from a year to another. Students rentals (25%) are on the rise by 2 points. A quarter of furnished rentals in Paris host a population attending university or prestigious schools. Stays for personal grounds (24%) are also increasing by 2 points. Furnished rentals provide an alternative to temporary situations such as renovations in the main residence, supporting a hospitalized relative or even a temporary accommodation following a divorce or an expatriation return. Bookings for professional grounds- temporary relocations, trainings, several-months missions- remain steady. Thus, the companies booking requests for their colleagues travelling for business remains the principal motive for renting a furnished property.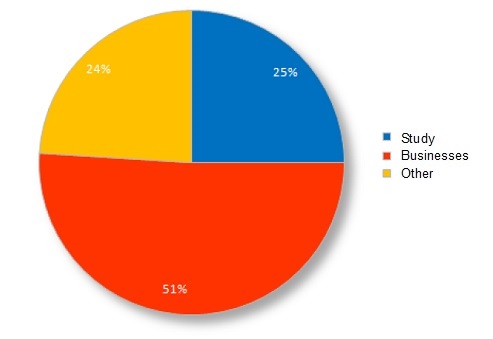 Read more: