The digital revolution reaches far beyond the bounds of the new technologies sector. Its effects are increasingly being felt in the real estate market. Parisian estate agency Lodgis now offers a virtual tour service for the sale properties on its books, and will soon be extending this to cover lets. Open the door and step right in!
Get a feel for a property and save time with a 360° walk-through experience
Buyers looking for properties find it difficult to imagine themselves in their new homes based solely on a couple of photos and a description, which may not even be particularly detailed. If a prospective buyer lives a long distance from the area where they are buying, visits are more difficult to organize and can be a hurdle to purchase.
Lack of time is an issue, and this can be compounded by disappointing visits to unsuitable properties. Given that most of Lodgis' clients are international, the agency has brought Matterport on board to provide clients with a realistic view of a property without the need to travel. To cater for the boom in on-the-go web browsing, the service can be accessed from any mobile device (tablet, smartphone, etc.).
"Most of our tenant clients do not visit properties before they rent them. In addition, 3D tours have the potential to save our many international buyers a trip - the views they offer are almost 100% realistic", explains Fabrice Petit, Lodgis' Chairman and founder.
Mapping spaces with state-of-the-art technology
The technology from Matterport, an American company, uses a powerful camera to collect visual and spatial data to map a property in just a few minutes. After scanning, the information is sent to a portal in the cloud where the data is processed using algorithms to create a 3D representation of the space.

The 3D scan created by the system can be viewed in a variety of ways: Dollhouse view gives an overview of a complete property in one go, Floorplan provides a more conventional 2D image and Inside View offers a walk-through guided tour of the interior.

"We are delighted to be working with Lodgis to offer walk-through tours of a large number of properties in Paris," enthused Matterport CEO Bill Brown. "By giving prospective buyers and tenants from all over the world an opportunity to walk through properties as if they were really there, Lodgis is reducing the doubt and uncertainty linked with buying or renting a home. With Matterport 3D Spaces, Lodgis can offer prospective buyers and tenants a genuine feel for a property."
Developing customer satisfaction through innovation
Virtual walk-through visits will gradually replace the interactive plans currently available for all the properties for rent and for sale on the Lodgis website. Interactive plans were highly innovative when they were first introduced. They are very popular with internet users because they offer a 2D feel for how the property is laid out, as well as the details of each room.
Over 70% of Lodgis' buyers are from outside France, and for them, virtual walk-through tours will be a great alternative to visiting a property to rent or buy in person.
Introduced in June 2011, electronic contract signature is another service offered by Lodgis to meet the needs of its cosmopolitan and increasingly mobile clientele. Using highly secure technology, a contract can be signed remotely, online, in just a few minutes, cutting down on the time required to complete paperwork. The addition of virtual 3D walk-through tours means the entire process can now be completed online: a future tenant or buyer can visit a property and sign the tenancy agreement without leaving their own home.
Some images
Floorplan view of a property for sale (access the virtual walk-through tour of the property):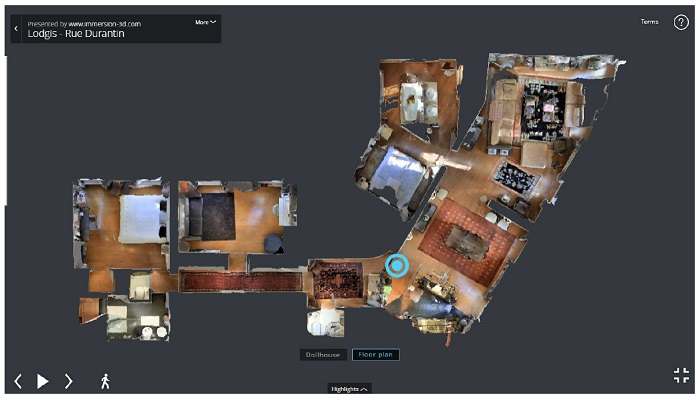 Use the keyboard or mouse to walk through the various rooms in the apartment.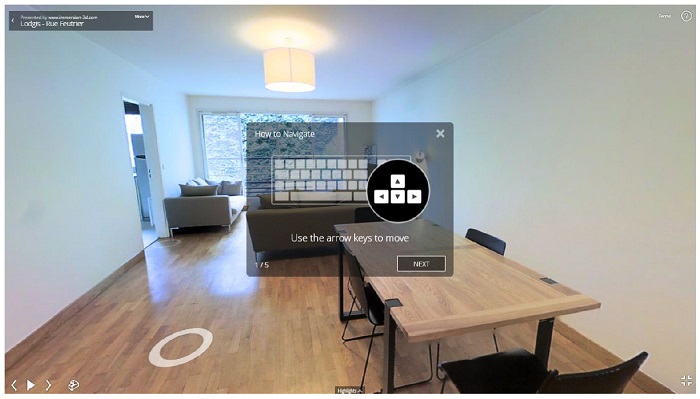 Read more: