Analysis of the furnished rental market by Maud Velter
« The furnished rental market is a stable market, which is essentially aimed at an international clientele, and this stability in rents should be confirmed in 2018, particularly thanks to an increase in the number of furnished properties. In fact furnished rentals remains a very attractive rental investment, seeing as though the 2018 Finance Bill has not changed tax laws. Furthermore, following the introduction of registration numbers in Paris, many owners who rented their furnished properties to tourists are now turning towards temporary furnished rentals or renting out their principal residences. The conditions are therefore linked so that Parisian rent prices for furnished rentals will remain stable in 2018,despite the recent cancellation of rent caps. » according to Maud Velter, Associate Director at Lodgis.
Evolution of prices per sqm pcm for furnished rentals in Paris
In Paris, rent prices for furnished rentals slightly increased in 2017 (+0.6%). However, there are some disparities between the central districts and the other districts. In fact, rent prices for the first 8 districts have slightly fallen (-0.4%), whilst rents have increased by 1.8% in the 9th-20th districts in 2017.
While rent prices of unfurnished rentals in Paris have slightly declined by 0.6% according to the Observatoire Clameur, it is evident that furnished rentals are doing well for the fifth year in a row : +0,36% between 2012 and 2013, +0,17% from 2013 to 2014, +0,63% in 2015 compared to 2014, 0,4% between 2015 and 2016 and +0,4% in 2017 compared to 2016.

Reasons staying in furnished rentals in Paris in 2017
45.2% of renters were professionals travelling for business: Paris is a popular destination for business travellers. The demand for companies needing to house their employees whilst they are away on business is the leading reason for staying in the capital. Economic growth in France, renewal in business confidence since the election of Emmanuel Macron, as well as the desire of many international companies to set up in Paris following Brexit is all good news for helping to make the capital more attractive and for the mobility of workers.
37,4% of renters were students: In 2017, the number of furnished apartments rented out by students was stable. In 15 years, the number of students in the Ile-de-France region has increased by nearly 17% and today there are 660,000 registered students in the region*. Among these students, nearly 200,000 reside in the capital**, and according to the "QS Best Student Cities" ranking in 2017, Paris is the second best student city in the world. It seems that student demand for furnished accommodation will continue to thrive.
17,5% of renters were staying in the capital for personal reasons, such as due to work in their main residence, supporting a relative who is at the hospital or even finding temporary accommodation following a divorce. This proportion remains relatively stable every year.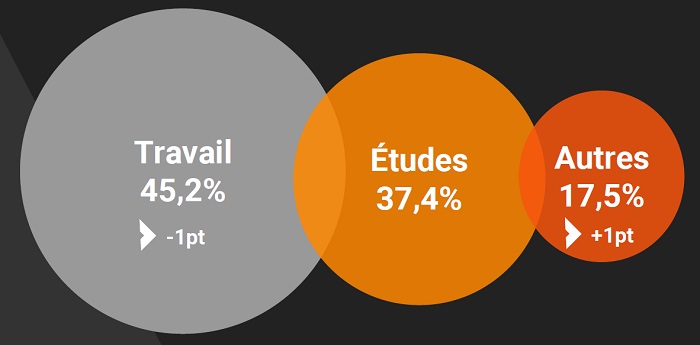 Origins of people renting furnished properties in Paris in 2017
On the whole, the evolution of the geographic origins of renters remains constant. France and the European Union both top the rankings, each one representing 31.1% of people renting furnished properties in the capital. Whilst the share of native French people has slightly declined this year (-0.6pt), the share of Europeans is bigger than it was in 2016 (+1.4pt).
Asia (11.2%) and North America (10.9%) come in third and fourth place respectively. However, there has been a slight drop in the number of Asian tenants this year (-1.3pt), whilst the share of American citizens has increased slightly (+0.7pt), as a result of favourable economic conditions. In fact, the dollar has been stronger than the euro for the fourth consecutive year.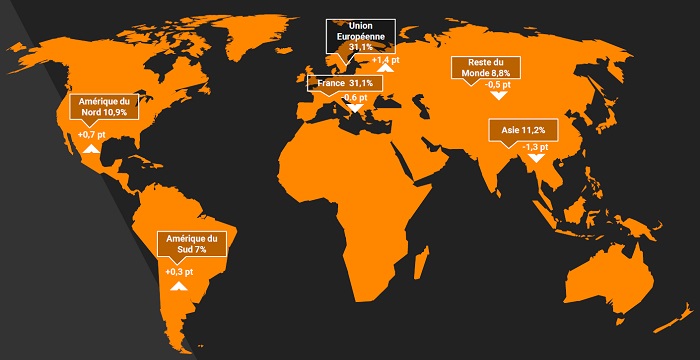 Top 5 European countries (outside France)
The main three nationalities of European renters are Italian (29%), English (16%) and German (12.7). Italians have a wide presence on the furnished rental market and their visits have increased by 2 points compared to 2016. On the contrary, the share of Spanish renters has decreased by 1.7 points in comparison with 2016, and has been established at 10.5%.
Types of furnished rental properties in Paris in 2017
Unsurprisingly, small apartments remain the most popular properties for renters of furnished apartments. Perfectly suited to students and professionals travelling for business, studios and one bedroom apartment represent 87.2% of all properties rented out.
Bigger apartments are sought after by families and student flat shares.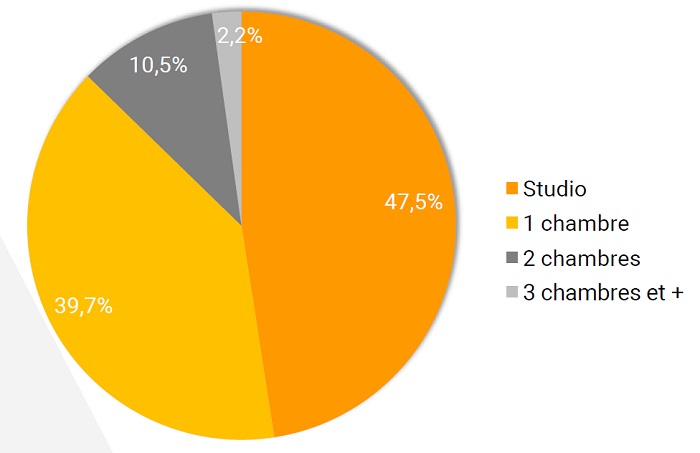 * Data from the Ministry of Higher Education and Research
** Students in the Metropol of Greater Paris, APUR, note n.109 August 2016
Read more: