Furnished or unfurnished rentals? More and more landlords are being drawn towards furnished rentals. The number of furnished rentals has almost tripled over the last 30 years, from 3.6% to 9.5%, in response to steadily growing demand. But who are landlords for furnished rentals? Lodgis and the jedeclaremonmeuble.com website, both specialists in this sector, have analyzed the profile of almost 3,000 landlords for furnished rental properties.
The first lesson from this study is that only 6.3% of landlords for furnished rentals are international. And the majority of these are French expats.
Location, the most important criteria
As always with rental investments, location is crucial. It's no surprise that furnished rental properties are located in the most dynamic French regions. Paris and the surrounding region contain almost half of the properties (47.8%), followed by the Auvergne-Rhône Alpes region (10.8%) and the Provence-Alpes-Côte d'Azur region (10.3%). This is a strategic choice, as these three regions are the major hubs for students and tourists and comprise half of France's GDP(1).
Small and medium-sized properties
Almost half of properties are worth less than 150,000€ according to statistics on the surface area of furnished rentals, with 63% with a surface area of less than 30m2(2). These are the most popular property sizes for tenants of furnished rentals: students, mobile employees or tourists visiting France. Only 6% of these properties are worth more than 500,000€.
The tax system, more profitable in 85%
The average annual income is 6,819€ for an annual monthly rent of 568€. The average annual charges were 4,878€ (excluding the first year(3)). Gross profitability is 4.5%.
By opting for the current tax system, the landlord can not only deduce all the charges from the annual income, but also pay off the value of the property (excluding land) up to 2.5 to 3% a year, as well as all furniture and appliances worth more than 500€. In 85% of cases, the régime réel tax system for a furnished rental is much more profitable for the micro-BIC system and can allow a landlord to put together property assets while collecting untaxed rental incomes of 2000€ a year on average.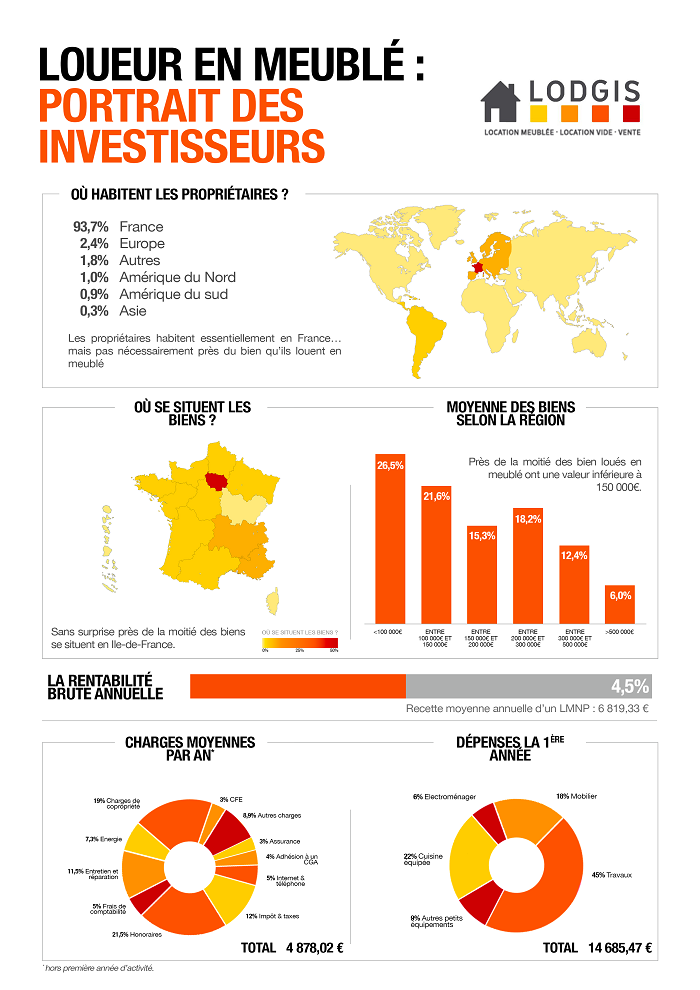 To guide landlords through the administrative steps and to help them choose the most profitable tax system, Lodgis' website jedeclaremonmeuble.com offers a free similator to allow landlords to calculate the amount of tax that they would pay with either system, depending on their personal circumstances (charges, the rent price and the value of the property).
(1) https://www.insee.fr/fr/statistiques/fichier/1372996/FST15_f_Panorama_Regions.pdf.
(2) http://politiquedulogement.com/dictionnaire-du-logement/l/location-meublee/
(3) The charges are more expensive during the first year since they include the transaction charges (for the agency, the solicitor, etc.)
You can also read: