A few weeks after de-confinement, Lodgis released their new barometerfor furnished rentals in Paris. The leader in furnished rentals in the Ile-de-France region draws up a progress report for the sector, which wasalso impacted by the recent pandemic:
A drop in contextual rents
A sharp increase in the number of French tenants
More student tenants but less professionals as tenants
A higher quantity of Principle Residence leases than Bail Mobilité leases for the first time since they were implemented
Furnished renting has come out stronger after this period, going even further with the use of digital technology and its capacity to personally accompany clients
Alexis Alban's Analysis, Lodgis' Deputy General Director
""Furnished rentals have clearly fared well in this period of crisis, but they have managed to do so by reinventing themselves, making this a real opportunity to rethink the sector and the profession of a real estate agent. To guarantee this success we advocate a 100% online process at Lodgis, which allowed us to offer useful and context-specific responses to ultimately offer tailor-made support to our owners and tenants during the crisis. It was in these moments that we saw the true value of our support and our role as intermediary, both in our expertise and in the field.
We are convinced that furnished rentals have a bright future ahead of them: they are more flexible and more profitable than tourist furnished rentals. Many players have won over it, enriched its ecosystem, and changed the regulations, which are themselves fueled by new trends in the consumption of housing.""
A temporary drop in contextual Parisian rent prices
With a rent per m² of 36.56€ in the second trimester of 2020, Lodgis has seen a decrease of 5% in Parisian rent compared to the same period in 2019 that had a rent per m² of 38.50€.
"We believe that his drop is contextual and temporary without a doubt. The supply is clearly higher than the demand because property owners, who previously rented their properties on seasonal touristic rental platforms, such as Airbnb, are now turning towards traditional furnished renting. Many property owners have made the decision to lower their rent price in order to rent their property out quicker and thus avoid an overly long vacation and a significant decrease in profitability this year. Nevertheless, rent prices could return to normal within the next few months, once foreign tenants are able to return to France and to Pari", Alexis Albanexplains.
More and more French tenants
In the previous trimester, the proportion of French tenants was increasing significantly: +22.5 points in comparison to T2 2019 and they represented roughly 60% of Lodgis' clients during the previous trimester (versus 36% in 2019 during the same period). European and American tenants are now fewer, with -12.5 points and -7 points respectively.
"The pandemic plays a major role in explaining this increase as well. Even though French tenants have been favoring furnished rentals for several months, this time it was the closing of French and European borders during the crisis that redefined the standard profile of furnished rental tenants. And this trend is likely to be confirmed with the drop in rent prices for furnished apartments in Paris: a real opportunity for French tenants to access furnished accommodation, andits many advantages, at unfurnished prices", analyzes Alexis Alban.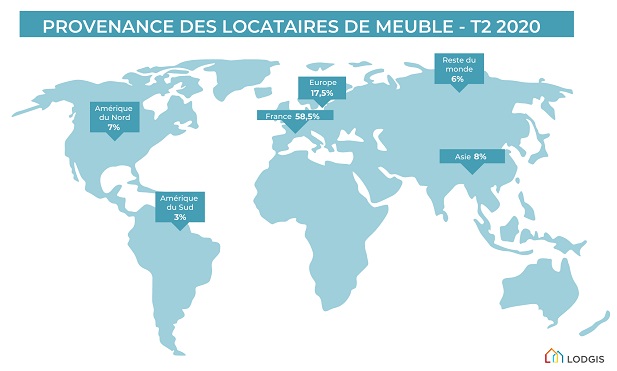 More students than professionals
Another noteworthy fact: students are more numerous than during the second trimester of 2019, with an increase of 3 points in comparison. Professionals, however, are less numerous and experienced a decrease of 4 points in comparison to the same period of 2019.
"These changes can be explained by the fact that it is now easier for students to organize their academic year. On the other hand, professionals are less sure about their ability to move: postponement of assignments, rescinded expatriations and large-scale deployment of telework. The reopening of borders and the gradual resumption of activity could reverse the trend or in any case revive the usual hiring of mobile professionals, both French and foreign", Alexis Alban explains.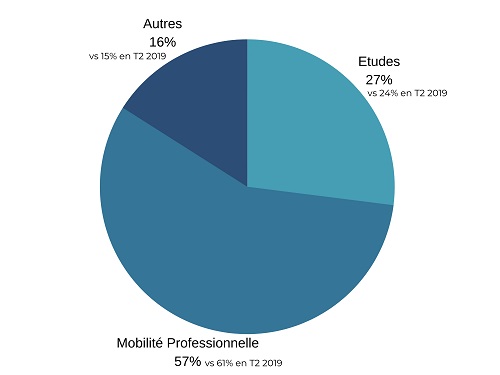 For the first time since its implementation, the Bail Mobilité is experiencing a slight slow down
Principle Residence leases are the only type of lease to see an increase in the past few months: with +11 points, they represent one third of leases signed during the second trimester (instead of 22% in T2 2019), to the detriment of the Bail Mobilité, Business leases, and Secondary Residence leases.
"The pandemic has temporarily halted mobility, notably that of foreigners who had planned stays in Paris. Tenants of furnished properties, therefore, are largely French and settle long-term as part of necessary planned stays. This goes hand in hand with the increase in the average length of stay, which has increased by 12 days. However, this is a contextual and short-term analysis based on the 3 months of crisis that we have just experienced. We can't wait to see what will happen this summer and in September following the border re-openings, the start of the academic year, and the return of more mobile professionals", Alexis Alban explains.
Further reading: