It's the beginning of the year and Lodgis is unveiling its annual recap of the traditional furnished rentals market in Paris. Its been a year of records for Lodgis:
a large increase in the demand for furnished properties for rent,
a growing interest in rental investment,
and the clear success of the bail mobilité (mobility lease) for both owners and tenants.
2019: A Year of Records for Lodgis
Analysis from Alexis Alban, CEO at Lodgis
"The strong enthusiasm for furnished rentals has been confirmed in Paris and in most major French cities, both for owners and tenants: at Lodgis, in 2019 we saw a 10% increase (in volume) in the demand for furnished rentals compared to 2018. We have also noted an explosion in demand from owners: + 30% of signed contracts. These are the records we are celebrating!
Indeed, on the one hand, furnished rentals provide new uses and temporary housing needs which must face today's localization market and on the other hand, it offers owners significant advantages such as flexibility, controlled and guaranteed rent, tax advantages, and less rapid wear and tear on their properties.
We are seeing that more and more owners are turning away from seasonal renting and its constraints (restrictive regulations, imposing logistics, capital gain taxes). The bail mobilité also encourages this development and earns tenants' and owners' support: true recognition of the tenant's mobility, it gives a clear and regulatory framework and a new opportunity for the owners to legally take control of and optimize their furnished rentals.
We are witnessing a true democratization of furnished rentals, which is encouraged by the new ways of living in and using real estate: mobility increasingly wins over stability and real estate purchases are more geared towards rental investment.
Incidentally, it was to respond to this growing demand from both tenants and owners that we expanded to the Toulouse, Bordeaux, and Lyon markets in 2019. A welcome challenge for Lodgis, the current leader in furnished rentals in Île-de-France".
The bail mobilité: The Confirmation of this Enthusiasm
The entry into force of the bail mobilité in 2018 has confirmed and accelerated the success of furnished rentals: at Lodgis, 30% of furnished properties rented in 2019 were accomplished using the bail mobilité, a true success.
"This changes the game in terms of furnished rental contracts! We're pleased to have believed in this new lease option from the beginning. Because of it, owners can comfortably rent their apartments for short terms without taking risks of going against the law.
There is, however, a disadvantage to this success: certain tenants, who have a real need for temporary housing (relocation, hospitalization of a loved one, marriage separation, etc.), are unable to benefit from the bail mobilité because their reasons are ineligible. And so they run into the reluctance of owners who request justified reasons for their mobility. In order to continue to move forward, it will surely be necessary to reevaluate and change the eligible criteria for the bail mobilité",says Alexis Alban.
Relatively Stable Rent per M2 per Month in Paris…
In Paris, the price of furnished rentals have slightly increased in 2019 (+1%), which results in 37,71€ excl. tax / m² / month. This increase falls in line with the continuing inflation of 1.4% per year.

The rent framework has not had an impact on rent prices, which have remained relatively stable. "We are pleased by this stability and we have informed and prepared the owners that work with us", Alexis Alban indicates.
French tenants are becoming more and more likely to choose furnished rentals
At Lodgis, we are seeing a 5 point increase in French tenants (36%) since 2018 (31%). However, tenants from the rest of the world are decreasing (-1 point for Asia resulting in 8.8%, -0.3 points for North America resulting in 11.3%, and -0.7 points for South America resulting in 4.4%). Tenants from Italy are the highest number among Europeans (making up almost one third of the 32.1%). And we must also note an important increase in tenants from the United Kingdom (+1.1 point) who rank second after Italian tenants.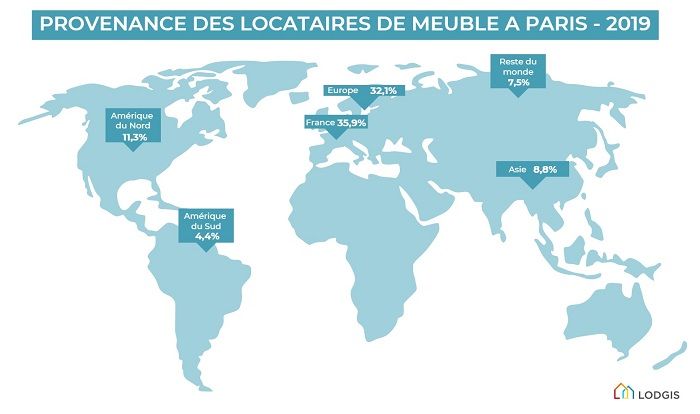 Reasons for their Stay: Professional Mobility in Mind
Mobile professionals are becoming more and more common: +4 points in 2019 resulting in 50.7% of furnished rental tenants. "This is a real underlying trend: professionals are becoming more and more mobile. Thanks to the bail mobilité, professionals are now turning less towards tourist vacation rentals or hotels, and moving more towards traditional furnished apartments, that, beyond offering comfort and autonomy for a generally much less expensive price, give them the feeling of having their own home, even while working internationally", analyses Alexis Alban.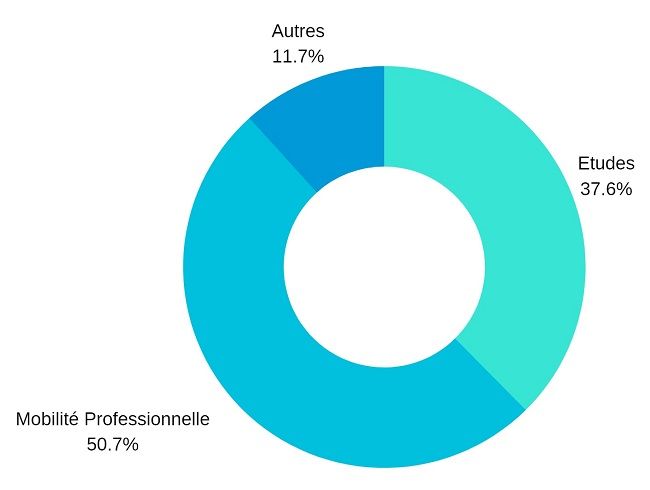 Study related stays remained stable in 2019: 37.6% as a result of an a 0,3 point increase from the year before.
On the other hand, stays for other reasons (relocation, work, etc.) dropped to 11.7% (as a result of a -4.6 point decrease). "It can be easily explained by the fact that these renters are unable to benefit from the bail mobilité because owners are hesitant to rent their furnished apartment for a few months without a valid reason for the tenants' mobility", explains Alexis Alban.
Types of Rented Properties
Properties with smaller surface areas are still the most rented apartments: 47% of which are studios and 39.7% are properties with one bedroom.
A Longer Term Trip
Tenants' length of stay is getting longer, with long term leases becoming more and more common: leases for more than 12 months (23.4%) gained 5.1 points since 2018 and the average length of a stay in Paris has increased to 204 days (compared to 193 days in 2018). "Furnished rentals also attract tenants that want to establish a more long-term lifestyle, but quickly and easily, without having to invest in furniture and other appliances", Alexis Alban explains.
New Stakes for Furnished Rentals
"This enthusiasm for furnished rentals leads us to rethink the large stakes in the market for the coming years", Alexis Alban announces. "The position of a real-estate agent must evolve and be reconsidered in order to better define the description their role, their use to the client, and the service and the personalized support that they will continue to provide to tenants and owners going forward. The next proposed Mickaël Nogal law is commendable: we welcome a law that fixes standards in order to give a status and a framework to real-estate professionals and to to reinforce confidence and appease relationships between landlords and tenants. We appreciate this intention to restore confidence and added value to our role as real-estate professionals and experts because it is in line with our existing business approach: advise and support owners and tenants". Alexis Alban adds: "Nevertheless, limits must be established in this proposed law. We must give ourselves the means and the freedom to make changes and evolve our models, but by sticking to the various realities of usage: real estate professionals will not be able to bear all of the costs that this proposal is likely to generate".
Further reading: