In November 2018, a new type of furnished rental lease was brought in under the ELAN law: the Bail Mobilité. It allows leases to be signed for a period of between 1 and 10 months. Its aims: to adapt to meet the needs and demands of people in mobility (students, professionals) and to allow owners to rent out their furnished properties on a short term basis completely legally.
Lodgis, leading furnished rental specialist in the Ile de France area, has made a first positive assessment of the Bail Mobilité, 6 months after it came into place: as of today, nearly 1000 rental leases have been signed.
The Bail Mobilité is popular among a large audience
Since its introduction in November 2018, the Bail Mobilité has accounted for 28% of furnished rental contracts signed with Lodgis: that's nearly 1000 leases. The division of Bail Mobilité contracts by property type is as follows: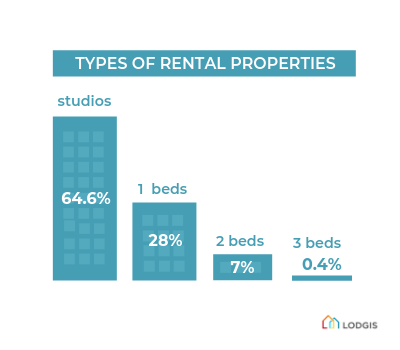 The average monthly rent is €1152.57 and the average property surface area is 28.5 m².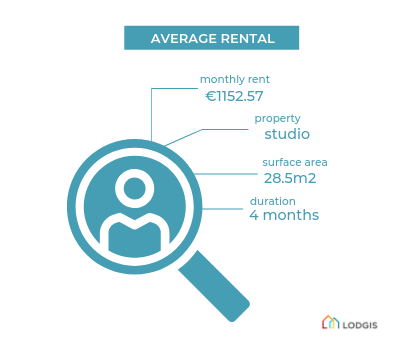 The length of contract under the Bail Mobilité also varies: 80% are signed for between 2 and 6 months and the average Bail Mobilité contract length is 4 months.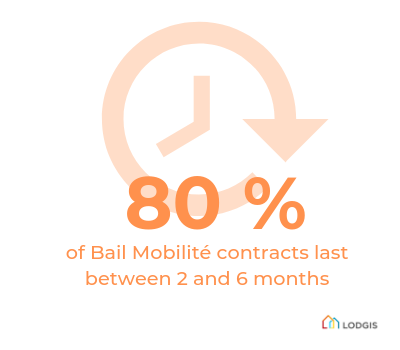 The profiles of tenants who have signed the Bail Mobilité are noticeably the same as with traditional furnished rentals: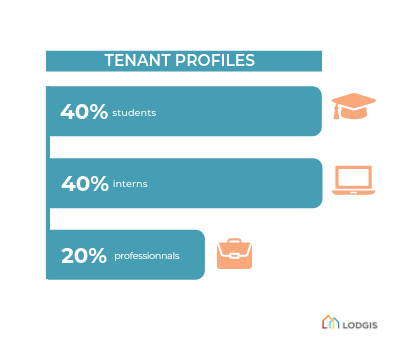 Tenants come primarily from Europe, accounting for 41.5% (excluding France) of tenants:
The Bail Mobilité: a real recognition of those in mobility
"Here at Lodgis, we are proud to have believed in the Bail Mobilité and to have offered it to tenants and owners since its launch at the end of November 2018", explains Alexis Alban, director of operations at Lodgis. "It's about a real recognition of mobility. We were immediately convinced of the need for this new type of furnished rental contract in order to adapt to the needs and wants of students and professionals in mobility, the number of which is ever growing in the major French agglomerations".
At the same time, the Bail Mobilité is attractive to owners as it allows them to rent out their furnished property on a short term basis while still benefiting from all the advantages that a traditional furnished lease has to offer. It avoids the constraints introduced for furnished tourist rentals, which are now far more sanctioned and complicated to put in place.
The first trimester of 2019 shows, therefore, that this new type of lease has met with success not just amongst tenants, but also amongst the owners of Paris. It's safe to say that the Bail Mobilité will be equally attractive in other major French agglomerations: a good sign for Lodgis which has recently expanded its services to Bordeaux, Lyon et Toulouse.
Download the complete infographics
Read more: